Altai Palace Hotel & Casino is located in Gorno-Altaysk, Altay, Russia. It became fully operational in August 2016. The Altai Palace casino was test-launched in November 2014 and currently involves 13 gaming tables, about 100 gambling machines and 3 VIP rooms.
Related Articles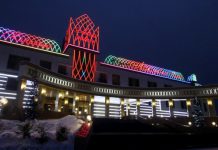 Infrastructure work has finally kicked off at Russian gambling zone, Siberian Coin, with the head of the Siberian interregional grid company announcing the construction of an electrical substation. According to Vitaly Ivanov, quoted by the local publication altapress.ru, its construction will cost approximately RUB 268 million (US$4.6 million dollars) and is expected to complete by […]
Russia's Tigre de Cristal casino, operated by Hong Kong based Summit Ascent Holdings had reportedly welcomed over 200,000 people in 2016, according to local official Konstantin Shestakov. In comparison, the Altai Palace casino in Siberia received just over 27,000 people in the January-November period in 2016, while Russia's first gambling zone Azov-City in Krasnodar Region, […]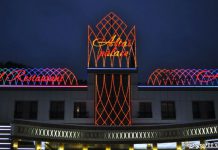 Casino Altai Palace, a key investor in Siberian Coin, has undergone an ownership change, reports Kommersant. The news was later confirmed by local media, which cited the Unified State Register of Legal Entities. The new major shareholder of Altai is Vladimir Kutyev, CEO of the refining company Gorno-Altaisk petroleum, who owns 70 percent of shares. […]
The Altai Palace gaming complex in Siberian Coin will become fully operational in August 2016. general manager of the Altai Palace casino Yevgeny Kosykh told Betting Business Russia. "By August 2016 we will fully open a hotel and restaurant in the Altai Palace complex. The constructive works and decoration of the restaurant and the hotel […]
Russia's Altai company, the key investor in Russia's gambling zone Siberian Coin says it is planning to invest in the Crimean gaming zone when it's launched, CEO of the Altai Palace casino told Betting Business Russia. The casino's management says it also plans to open another casino in Siberian Coin in 2018, as long as […]
Another casino may be opened in the Siberian Coin gambling zone in Russia's Altai Territory in 2018, general manager of the currently operating Altai Palace casino Yevgeniy Kosikh told privately-owned publication Betting Business Russia. Plans to start construction of the new casino in 2017 are linked to the company's forecast that the flow of visitors […]
A large delegation of players from China will visit the Altai Palace casino in Russia's Siberian Coin gambling zone on July 1st, Betting Business Russia said, citing the casino's managing director, Yevgeniy Kosykh. According to Kosykh, some 50 Chinese players will stay for 10 days. They will fly from China to Novosibirsk and be transported […]
Russian gambling industry executives have lambasted a Finance Ministry proposal to raise gaming taxes, saying that such an initiative would "destroy the gambling business." To date, one of Russia's key draws for foreign investors has been its low taxation rate. If taxes rise tenfold as proposed, the industry will come to a standstill, participants say.