Website: http://asiancoastdevelopment.com/
Asian Coast Development Ltd. (ACDL) is an international development company specializing in integrated resort destinations. ACDL, through its wholly-owned subsidiary Ho Tram Project Company Ltd, is the developer of the Ho Tram Strip, a group of integrated resorts and residences located on more than 400 acres of land set on 2.2 kilometers of pristine beach in Ho Tram, Vietnam.The first phase of its development – The Grand Ho Tram Strip – opened its doors in 2013 and includes a 541 room five-star hotel, a world-class entertainment facility, restaurants, high-tech meeting space, an exclusive VIP area, three swimming pools, as well as a variety of beach-front recreation activities. Adjacent to The Grand, the 18 hole Greg Norman designed Championship golf course – The Bluffs – opened for play in early 2014.Construction is underway on a second tower at The Grand, with an additional 559 rooms, bringing the resort's total to 1,100.Future developments at the site will include a residential offering, a second integrated resort similar in size and scale to The Grand, and three additional five star resorts.
People
Luís Mesquita de Melo is Chief Legal Officer at Asian Coast Development, an international development company specializing in integrated resort destinations. Prior to that he was SVP and Chief Legal Counsel for NagaCorp (HKEx 3918). Previously, Luís was Partner and Head of Gaming & Hospitality at law firm MdME. Melo is the former executive vice president, general counsel and company secretary for Sands China Ltd. Melo was a lawyer at J.A. Pinto Ribeiro & Associates, Lisbon legal advisor to the Minister of Economy of Portugal and Lisbon legal advisor to the president of the Macau Legislative Assembly.
Related Articles
The Ho Tram Project Company said it has begun construction work on the next phase of the $4.2 billion Grand Ho Tram IR project in Vietnam, breaking ground for the Kahuna Ho Tram Strip Condotel and Villa Development. "With the commencement of piling today, we aim to be fully operational in early 2019. As the […]
ACDL executive chairman and CEO Michael Kelly has been elected as Vice Chairman of the AmCham Vietnam Board by his fellow governors. In his new role as Vice Chairman, he will serve as a principal advocate for U.S. businesses and investment in Vietnam, expanding on the work he has done to date in his capacity […]
Michael Kelly, executive chairman of The Grand Ho Tram Strip has been elected to the American Chamber of Commerce (AmCham) Board of Governors for the year 2017. Mr. Kelly, who resides in Vietnam, will be the highest-ranking American executive serving on the Board and will play a prominent role representing U.S. business interests in the […]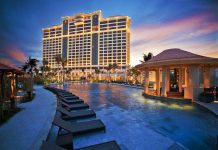 Asian Coast Development Ltd. (ACDL), developer of The Grand Ho Tram, has announced the appointment of Mr. Tony Podesta and Ms. Loretta Pickus to its board of directors. The two independent board members bring half century of experience in the hospitality industry and government affairs, said the company in a press release. Executive chairman and […]
The ruling Communist Party of Vietnam has recently made it clear that it supports the creation of a new gaming industry and will allow local Vietnamese to enter designated casinos on a trial basis. AGB spoke to Prof. Augustine Ha Ton Vinh about the new legislation during the East Meets West Regulators Summit in the Philippines, Oct. 26-28, 2016. Vinh is a Vietnam gaming expert and Senior Advisor to the Van Don Special Economic Zone and Integrated Resorts. He was a guest speaker at the Summit and told us locals will be allowed in two venues.
In June, Vietnam took the long-awaited step and sent a draft decree that could pave the way for locals to gamble to the National Assembly. There's been much speculation over the impact a change in the law will have for both Vietnam and neighboring Cambodia's casino industries and whether Vietnam will finally be able claw back revenues lost over the border.