Related Articles
BetConstruct said it has developed a tailored live casino solution for Bally's casino in Sri Lanka, as part of a project to help land-based casinos target the online gaming sector.
Nepal's casino sector appears finally to be poised for expansion, with new properties opening and foreign investors entering the market, drawn by the lure of untapped demand in neighboring India and increased business traffic. The industry is one of the oldest in Asia, but has been through a transitional period, with new international standard gaming regulations introduced in 2013 and with the country hit by an earthquake and temporary border issues in 2015. However, the picture is brightening and will soon have its first international standard IR.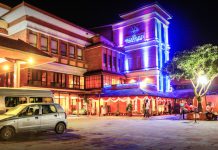 Nepal's economy is forecast to grow at the fastest pace in 20 years in 2017, with tourism arrivals also recovering, helping to attract foreign investment into its casino sector. Foreign investors are now moving back into the country and the casino sector. During the Nepal Investment Summit  in March a total of $13.7 billion was pledged in foreign direct investment, with the bulk from China. About $10 million was earmarked for tourism and casinos are reopening.