People
Cammegh managing director
Related Articles
Cammegh, a manufacturer of roulette wheels, has agreed a deal with the CasinoCoin Foundation to launch a custom token on the CasinoCoin blockchain.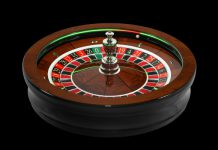 Roulette wheel and table game manufacturer Cammegh will be exhibiting at G2E Asia Macau for their 9th year this year. The show will see brand new Mercury 360 Aurora Halo wheel make its first appearance in the region having had its debut at ICE in February.   The Mercury 360 Aurora Halo wheel is the […]
Roulette wheel manufacturer Cammegh enjoyed another successful show at this year's ICE exhibition. Cammegh was able to show off their latest roulette innovations with the impressive Aurora Halo wheel, complemented by the new slim line Billboard Displays with LED strips. The Aurora Halo Wheel takes advantage of the Mercury 360 in-rim sensor technology to produce […]
Roulette wheels manufacturer, Cammegh is set to showcase an impressive spread at ICE 2016. Taking center stage will be the new Aurora Halo roulette wheel featuring a display using LED lighting. Also making its debut at the show will be the latest 23" ultra-slim design Billboard screens which will be paired with customizable RGB LED […]
Cammegh, manufacturer of the world's finest roulette wheels, is looking forward to exhibiting at this year's G2E in Las Vegas. The show will see Cammegh's latest roulette side bet, Spread Bet Roulette, make its debut in the US.  The exciting new side bet gives operators the opportunity to offer a wider range of roulette bets […]
Two years on from Bitcoin's mainstream breakthrough, land-based casinos are beginning to explore valuable use cases for the technology upon which the leading cryptocurrency is built.