Casino Pride, is an offshore casino in Goa, berthed on the River Mandovi overlooking the capital city Panjim.The casino occupies three spacious floors covering over 30,000 sq. ft. and has a Weather Deck that is almost 10,000 sq. ft. in area.It features games including Roulette, Blackjack, Baccarat, Casino War, 5 Card Poker, Texas Hold'em Poker, Mini flush, Flush, Andar Bahar and Paplu (Rummy), besides several electronic slot machines. Pride Casino also offers a multi cuisine restaurant with a well-stocked bar on each floor and barbecue on the weather deck.
Related Articles
Goa's offshore casinos have been hit hard ever since Prime Minister Narendra Modi moved to scrap the 500 and 1,000 rupee notes in early November, local media reports. With limited available cash, people have been staying away from the offshore casinos, causing many to close shop temporarily, according to India Times. "The business has been […]
Goan police have recently registered a first information report (FIR) against two senior officials of Heraldo Publication, who have allegedly attempted to extort money from casino companies. According to Vishwesh Karpe, from the Goan police's crime branch, the publication had allegedly demanded 25 lakh (US$37,500) of advertising or sponsorship at Herald events from Casino Pride […]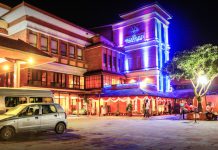 Nepal's economy is forecast to grow at the fastest pace in 20 years in 2017, with tourism arrivals also recovering, helping to attract foreign investment into its casino sector. Foreign investors are now moving back into the country and the casino sector. During the Nepal Investment Summit  in March a total of $13.7 billion was pledged in foreign direct investment, with the bulk from China. About $10 million was earmarked for tourism and casinos are reopening. 
On Nov. 8th, Indian Prime Minister Narendra Modi made an unscheduled televised appearance during which he dropped a bombshell for the country's economy. In an effort to stamp out the black market and tax evasion he announced that the 500 rupee and 1,000 rupee notes in circulation would cease to be legal tender. The move triggered an estimated 80 percent drop in gambling revenue across the country.
Nepal's casino industry is recovering from a series of deadly earthquakes and a temporary border blockade with India last year, with international casino operators increasingly eyeing the market as a way to tap potential from neighboring India. Visitor numbers to the Himalayan nation by air jumped 12.77 percent in the first half of this year to 313,512, compared with about 277,992 visitors in the same period last year. In the first half of 2014, tourist arrivals had reached 412,461.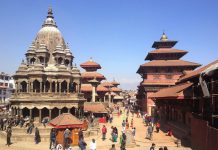 Nepal's casino industry is forecast to bounce back in 2016 after a devastating earthquake last year and an unofficial border blockade imposed by India. According to Union Gaming Analytics, an industry consultant, the Indian market could have the potential for US$4 billion in gaming revenue and Nepal casino insiders say operators are perfectly positioned to attract those players.The industry in Nepal has faced a tumultuous few years, with the government shuttering all casinos in 2014 after failure to comply with new regulations and pay outstanding license fees. The casinos began reopening in 2015, with many under new management, only to be hit by an earthquake in April, followed up by an unofficial border blockade by India.