Ho Tram Project Company Ltd is the developer of the Ho Tram Strip, a group of integrated resorts and residential development located on more than 400 acres of land along 2.2 kilometers of pristine beach in Ho Tram, Ba Ria – Vung Tau, Vietnam.
Related Articles
Walter Power has resigned his position as a non-executive director of South Shore Holdings in order to take up a new post as CEO of the Ho Tram Project in Vietnam. Until a year ago, Power had served as CEO of South Shore Holdings, owner and operator of The 13 Hotel in Macau. The Ho […]
The Ho Tram Project Company said it has begun construction work on the next phase of the $4.2 billion Grand Ho Tram IR project in Vietnam, breaking ground for the Kahuna Ho Tram Strip Condotel and Villa Development. "With the commencement of piling today, we aim to be fully operational in early 2019. As the […]
The Ho Tram Project Company Ltd (HTP) has announced the launch of KAHUNA Ho Tram Strip condotel and villa project. Designed by leading Ho Chi Minh City architects, KAHUNA is named after the legendary waves of Hawaii, capturing the essence of a beachside holiday experience. Mr. Michael Kelly, executive chairman of HTP, described the condotel […]
The Ho Tram Project Company (HTP) has inked a Memorandum of Understanding with a Vietnam-based natural gas distributor in a move towards cleaner, greener power. According to HTP, the developer of the Ho Tram Strip, a total investment of US$63 million (NPV) would be deployed towards a power station to be built within the existing […]
The third phase of the Ho Tram Strip project is set to start development some time in 17Q4, said Ho Tram Project Company (HTP) in a press release on Thursday. The Kahuna Ho Tram Strip is a 244-key development located adjacent to the north-side of The Grand and will feature a combination of 164 one […]
Vietnam's southern province of Ba Ria-Vung Tau has agreed in principle to allow the Ho Tram Project Co Ltd to construct a small airport used exclusively for the integrated resort complex, VN Express International reports. The proposed airport would cover 200 hectares in Dat Do District under the build-operate-transfer model. While the airport will be […]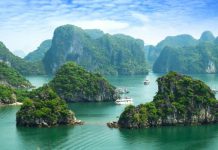 Vietnam's gambling industry stayed largely out of the headlines in 2019, though projects have been inching their way forward, with the country's largest resort to date scheduled to open in the first half of this year.