Founded in 1865 to finance trade between Asia and the West, today HSBC is one of the world's largest banking and financial services organizations serving around 46 million customers.
Related Articles
Shopping has taken over gambling as the biggest earner in Singapore's tourism industry, rising 44 percent year-on-year in the six months through June, says Bloomberg. According to official data, the period marks the first time that shopping revenue has outpaced casino revenue since 2012. Around 2.1 million Chinese visited Singapore last year, said Bloomberg, double […]
Galaxy led in VIP market share gain in October by 6.3 percent month on month, boosted partly by win rate and at the expense of MGM which had a strong and lucky month in September, HSBC Research said. MGM's share dropped 5.7 percent, while Sands relatively outperformed by adding 0.9 percent to its share.  Sands […]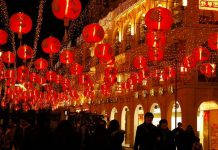 As China prepared to celebrate the year of the monkey in early February, there were many who wondered if the celebrations would be muted because of the effects of the perceived economic slowdown as Q4 GDP growth came in at 6.8 percent. That was lower than expected and came as industrial production slowed, exports and imports remained sluggish and prices fell, highlighting deflationary pressures in the economy.On the face of it, the sluggish economy, coupled with a weaker Renminbi making overseas travel more expensive, might bode ill for the regional and indeed global casinos. However, the consumer sector has shown surprising strength.