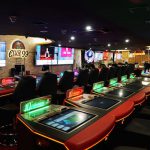 Asia Pioneer Entertainment Holdings said it has finished the installation of 50 Spintec gaming machines in the CLUB99 Furama Resort in Danang, central Vietnam.
Hong Kong-listed Success Dragon International Holdings has announced it has entered into an agreement to acquire a stake in a 5-star hotel located in...
The declining VIP gambling scene in Macau has proved beneficial for Danang, Vietnam based casino and resort, Crown International Games Club. The small, privately owned...